Low-paid guards at 'critical' U.S. sites
WASHINGTON — Private security guards paid little more than janitors and restaurant cooks are guarding many of the critical security sites in the United States, usually with minimal or no anti-terrorist training, an Associated Press investigation found.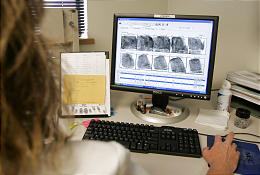 Douglas C. Pizac, Associated Press
Valorie Webster does fingerprint checks at the Bureau of Criminal Identification in Kearns, Utah.
The nation's security industry found itself involuntarily transformed after Sept. 11, 2001, from an army of "rent-a-cops" to protectors of the homeland. But cutthroat competition by security firms trying to win contracts with low bids has kept wages low and high-level training nonexistent.
Richard Bergendahl fights the war on terrorism in Los Angeles for $19,000 a year. Down the block from the high rise he guards is a skyscraper identified by President Bush as a target for a Sept. 11-style airplane attack.
Bergendahl, 55, says he often thinks: "Well, what am I doing here? These people are paying me minimum wage."
Security consultant Hallcrest Systems, in a January 2005 report for the Department of Homeland Security, said its experts believe that 15-20 percent of the country's private security officers protect sites designated by the government as "critical infrastructure." Major cities have a ratio of three or four security officers to each police officer, the study said.
And the industry is governed by a maze of conflicting state rules, according to a nationwide survey by the AP. Wide chasms exist among states in requirements for training and background checks. Tens of thousands of guard applicants were found to have criminal backgrounds.
A New Jersey Democratic congressman, Rep. Robert Andrews, said he's confident that lawmakers will support a bill he sponsored to upgrade the industry by requiring criminal background checks for all U.S. security guards.
"How much is it worth not to have one criminal guarding a nuclear power plant?" he asked.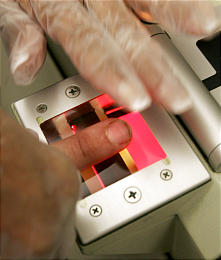 Douglas C. Pizac, Associated Press
A man's fingerprints are electronically scanned at Utah's BCI. Not all states require checks of guard applicants.
Andrews said the checks will have the effect of raising pay, because they will weed out many guards whose criminal histories lead them to accept the lowest salaries.
"This is one area where doing things on the cheap is a really bad idea," Andrews said.
"A security officer is ... not trained to be a G.I. Joe," said Paul Maniscalco, a research scientist at George Washington University.
More than five years after the attacks, Maniscalco is helping to change the security guard culture. He recently developed an anti-terrorism computer course for shopping mall guards, who are being taught they now have more concerns than rowdy teenagers and shoplifters.
The middle-ground pay for security officers in 2006 was $23,620, according to a new Labor Department survey. The low pay reflects fierce competition among security firms, which submit the lowest possible bids. Lowball contracts also mean lower profit margins and less money for training and background checks for guards.
Some states require FBI fingerprint checks for every guard job applicant. Others let the industry police itself. These states don't regulate the industry: Alabama, Colorado, Kansas, Mississippi, Missouri, Nebraska, South Dakota, Kentucky, Wyoming and Idaho. The city of Boise and many Idaho communities do regulate guards. Some states require background checks for company owners but not guards.
In states that keep such records, the AP found more than 96,000 of 1.3 million applicants, about 7.3 percent, were turned down — mostly, state officials said, for having criminal histories.
The most important number, however, can't be found: individuals convicted of serious crimes who were hired in states without background checks or in states where they slipped through the system.
Congressional investigators reported last year that 89 private guards working at two military bases had histories that included assault, larceny, possession and use of controlled substances and forgery. The Army says it has purged guards with criminal histories from its bases.
"I frankly was shocked, after 25 years in the FBI; I assumed those in the private sector had gone through criminal background checks," said Jeffrey Lampinski, an executive with AlliedBarton Security Services.
The security businesses' own trade group, representing the largest firms, acknowledges the industry as a whole isn't ready to recognize signs of terrorism and respond to an attack.
"I would have to say no," said Joseph Ricci, executive director of the National Association of Security Companies, when asked whether most guards are trained to protect the homeland. "Companies that hire private guards began spending more for security after September 11, 2001, but then began cutting back. We've become complacent because we haven't had attacks."
For guards at the Energy Department's nuclear weapons facilities, failure to protect nuclear materials from terrorists could be catastrophic. That's why their training is far more exhaustive than that of most security officer recruits.
At the Nevada Test Site, 65 miles from Las Vegas, contract guards working for the Wackenhut Corp. train in desert camouflage and military helmets, fire automatic weapons, put on gas masks and kick up the desert dust in military Humvees with gunners on top.
They crouch behind cactus plants to shoot at targets, stalk "intruders" with drawn sidearms and burst through doors of buildings, first dropping "flash-bang" devices that have an explosive sound and fill the room with smoke.
"Failure on our part is failure to protect a vital national security asset," said David Bradley, the Wackenhut general manager at the test site. "We don't see that ever occurring."
Other sites protected by the security industry include drinking water reservoirs; oil and gas refineries; ports; bus and rail commuter terminals; nuclear power plants; chemical plants; food supplies; hospitals; and communications networks.