Dangerous radioactive devices disappearing in Canada
At least 76 in last 5 years, some usable in terror attacks
By CP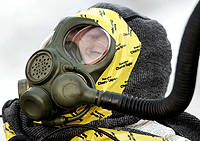 A member of the Joint Nuclear, Biological and Chemical Defence (JNBCD) Company from CFB Trenton takes part in a training exercise at the DND Connaught Riffle Range in Ottawa in this Dec. 11, 2002 file photo. (Sun file)
OTTAWA — At least 76 radioactive devices — several of which could be used in a terrorist attack — have gone missing in Canada over the last five years, newly compiled figures show.
They're stolen from cars, disappear from construction sites, fall off trucks and generally go astray at an alarming pace.
The Canadian Press has compiled a database showing the rate at which these widely used devices vanish, often for days, sometimes without a trace.
It chronicles dozens of thefts and mishaps involving hazardous equipment employed daily in tasks ranging from oil-well measurements to pioneering medical research.
Thirty-five of these were nabbed by thieves. Three others were found in a roadside ditch, a garbage landfill and a farmer's field.
And at last count dozens were still missing.
The eye-opening data emerge as anti-terrorism experts warn it's a matter of when — not if — readily available material will be used to craft a crude radioactive explosion, or dirty bomb, that could sow panic and cost billions of dollars to clean up.
Some of the incidents would be laughable if the potential implications weren't so serious:
A smash-and-grab crew in Red Deer played hot potato with a radioactive device after stealing a trailer containing the dangerous item.
A Quebec inspection firm has lost six nuclear gauges to thieves in the last three years.
A radioactive tool was turned in by an honest citizen after it fell out of a truck making a right-hand turn in Peterborough, Ont.
Ontario and Quebec were the hot spots, with 18 incidents each, according to reports filed with the Canadian Nuclear Safety Commission and obtained by The Canadian Press under the Access to Information Act.
Alberta figured in 16 cases, British Columbia nine, Manitoba four, Saskatchewan three and neighbouring Montana one.
Many of the items were recovered. Others simply weren't potent enough to pose serious hazards. But radiation safety experts say several devices that went missing, even if temporarily, could have posed a genuine security risk in the wrong hands.
The blast from wrapping radioactive material with a conventional explosive would likely kill or maim few people. But it could spew radiation up to several kilometres, depending on wind speed and the type of material used, forcing evacuations and breeding chaos.
Weapons of mass disruption
That's why they've been dubbed "weapons of mass disruption."
Consider the three Keystone crooks in Red Deer who smashed their all-terrain vehicle through a fence and drove off with a trailer, only to discover a radioactive oil-well gauge inside.
They cut locks and "towed it away not even knowing what the hell it was," said Les Owens of Ultraline Services Corp., the company that owned the device.
It was five days before anyone noticed the trailer missing and reported it stolen, on June 25, 2003. The lead-encased tool used to assess the depth of oil and gas deposits was recovered a week later, apparently after the panicked thieves noticed 'radioactive' warnings and dumped it.
Three men and a child living with them later tested negative for radiation sickness, said Kathe DeHeer of the RCMP in Red Deer.
"They were very, very fortunate."
So was the Canadian public.
Preliminary findings of a federal study released to The Canadian Press say a gauge like the one stolen in Red Deer, detonated near Toronto's CN Tower, would spew radiation over four square kilometres and cost the economy up to $23.5 billion.
In fact, explosives would not even be needed. A terrorist could leave an unshielded radioactive device — a so-called silent bomb — in a park or airport lounge.
Such an attack would be especially effective given that the public generally knows little about radiation and its dangers.
The legitimate use of radioactive isotopes in a vast array of industrial and scientific procedures benefits countless Canadians.
Radioactive tools
Thousands of licensees, from construction companies and pipeline crews to hospitals and universities, use a range of radioactive tools for everything from measuring the density of concrete and sterilizing food to attacking cancerous cells and conducting crucial scientific research.
Officials are tightening controls, however, out of fear they could be used in more sinister ways.
A study last year by the Canadian Security Intelligence Service said it's "quite surprising" terrorists have not already set off a crude radioactive bomb.
"We are positively overdue" for such an attack, CSIS said. Radiological sources are prevalent, while increasingly savvy and emboldened Islamic extremists are bent on inflicting economic devastation as much as death.
The prospect of a radiological incident appears to have official Ottawa spooked. Requests to various agencies for interviews about Canada's readiness were met with weeks of stony silence while bureaucrats carefully vetted their answers.
It doesn't help that no fewer than six federal agencies share related duties for preparedness. There are growing signs that Western officials should be worried.
Just last September, Abu Hamza al-Muhajir, the now deceased leader of al-Qaida in Iraq, urged scientists to help the organization build radioactive and germ-laden weapons.
Some point to improvised conventional explosives, and even bombs packed with chlorine used against U.S.-led forces in Iraq, as signs that homemade weapons are evolving in startling ways.
"It does seem there's an escalation," said Charles Ferguson of the U.S. Council on Foreign Relations, a research leader on radiological threats.
"It could be just a matter of time.
'You don't want to scare people'
"You don't want to scare people. You want to have an adult conversation with people and say there is this type of threat out there. We're not saying it's terribly likely to occur, but it's more likely to occur than an actual nuclear attack."
While the U.S. government obsessed about phantom stockpiles of weapons of mass destruction in Iraq, Ferguson tried in vain to warn of smaller-scale radiological sources scattered throughout that Middle Eastern country. It was months before American forces paid much attention to the threat, he said.
Washington has spent much more time and money in recent years to minimize the less likely but far more potentially deadly risk of a major atom bomb-style attack.
G8 countries finally agreed in 2002 to tighten export controls on radiological sources. There have been other improvements, but efforts to guard against a dirty bomb attack have commanded distinctly less respect than other risks, Ferguson said.
"It's the Rodney Dangerfield of security programs."
Neglected nuclear stockpiles in the former Soviet Union have spurred other international efforts — including contributions from Canada — to better secure them. And with good cause.
At least twice in the 1990s, Chechen rebels got their hands on radioactive materials, in one case fastening a dirty bomb to a railway line near Grozny. It was successfully defused.
Perhaps most stunning was the fatal poisoning of former Russian spy Alexander Litvinenko with radioactive polonium-210 in a London restaurant.
As he lay dying, Litvinenko accused the Russian government of killing him as payback for his public criticism of the regime — a claim the Kremlin denied.
In the post-9-11 era, many countries want to better safeguard materials that could be used as powerful weapons.
The International Atomic Energy Agency (IAEA) has called for improved monitoring of radiological devices.
Tracking system
Canada followed suit with a national inventory and tracking system for sealed radioactive sources, as well as steps toward improved storage and transport security.
Those efforts are apparently needed. The declassified incident reports reveal numerous gaffes and miscues:
The loss of two nuclear medicine markers at a hospital in Windsor, Ont., sometime in late 2002.
The March 2003 disappearance of five electron-capture detectors from Ontario's University of Guelph.
A vanishing vial of sodium iodide that appears to have fallen off a courier truck en route from Kirkland, Que., to Saskatoon in October 2003.
Canada is not alone in struggling to keep tabs on radioactive items in the warehouses, cabinets and trucks of licensees.
Between 1993 and 2005, the IAEA collected reports from member states, including Canada and the United States, of more than 827 confirmed incidents of illegal acquisition, possession, transfer or disposal — whether accidental or not — of nuclear and other radioactive materials.
That figure may be conservative.
A 2003 report by the U.S. Government Accountability Office found that since 1998 there had been more than 1,300 cases of sealed sources being lost, stolen or abandoned in the United States alone.
The record has prompted some American politicians to raise the spectre of a radiological assault.
In the absence of an actual attack to dissect and study, scientists and security officials have turned their attention to accidental releases, laboratory tests and simulated events.
Four people died and 85 contaminated buildings had to be razed in Goiaina, Brazil, after the 1987 scrapyard discovery of a capsule of cesium from a cancer treatment centre.
Controlled dirty-bombs
Controlled dirty-bomb explosions in the United States led scientists to conclude that contamination would largely be limited to an area of 500 metres.
The Federation of American Scientists, long a prominent voice on research on nuclear and radiation issues, paints a more grim scenario.
In 2002, the organization told a congressional committee that materials lost or stolen from U.S. research institutions and commercial sites could contaminate tens of city blocks at a level requiring prompt evacuation.
An area exceeding tens of square kilometres, the FAS said, could be swept with radiation exceeding recommended civilian exposure limits.
A 2004 study by the National Defense University in Washington, D.C., suggests the economic impact of a successful dirty bomb attack on a major populated area is likely to equal and perhaps exceed that of the Sept. 11, 2001, jetliner assaults on New York and Washington.
In Canada, a federal initiative has used computer modelling to examine the likely effects of a dirty bomb depending on the materials and location involved. Much would depend on whether the radioactive source was in easily dispersable liquid or powder form.
While there is some disagreement over the number of people and the size of the area likely to be affected, the experts agree the economic and psychological impact of even a modest attack in a major city could be significant.
"Within the terrorist community, the intent is there," said Ted Sykes, who manages a portfolio of federal research projects to better deal with radiological and nuclear threats.
"But their ability to carry out the intent is questionable based on all the security considerations that have been put in place. That said, if they did succeed the impact would be relatively high. So consequently we do the work that we do.
Source: EdmontonSun.com