VICTORY!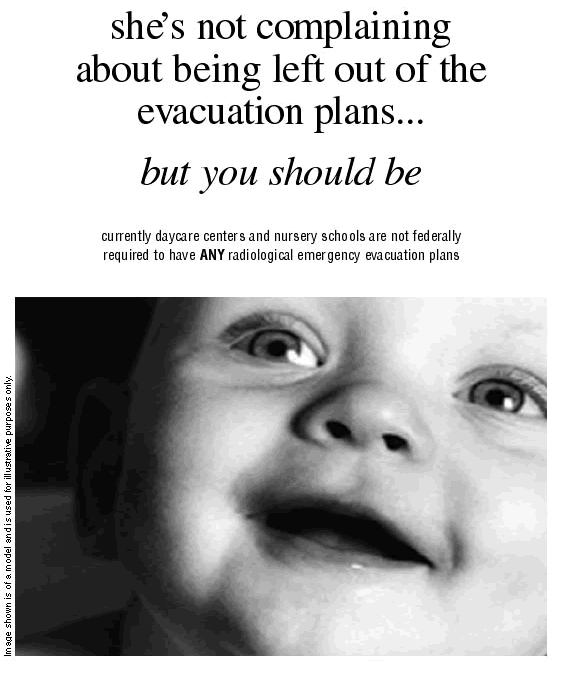 PLEASE HELP US CHANGE THIS DANGEROUS OVERSIGHT TO INSURE OUR PRESCHOOL CHILDREN WILL NO LONGER BE LEFT WITHOUT FEDERAL EMERGENCY EVACUATION PLANS.
Unlike ALL public schools, there are currently no federally mandated radiological emergency evacuation requirements for any daycare centers or nursery schools located near the nations 103 nuclear power stations.
This means our youngest, most vulnerable children have been left without any emergency plans in the event of a nuclear accident or terrorist attack at a nuclear power station.
Three Mile Island Alert, Inc. has therefore formally petitioned the U.S. Nuclear Regulatory Commission (NRC) that such rules be put in place. By filing this petition for rulemaking on September 5, 2002, a legal process was set into motion whereby all parties interested may comment directly to the NRC on this important public safety matter.
Without the requirements we asked the NRC to put in place, preschools throughout the nation will continue to be left without any:
Designated relocation centers
Designated transportation
Approved-child-safety seats

Rosters of emergency bus drivers

Planned educational materials

Notification of state of readiness

Inclusion in radiological emergency preparedness exercises, etc.
These deficiencies all serve to pose dangerous risks to the safety of preschool children.
Until the U.S. Nuclear Regulatory Commission creates new regulations requiring emergency planning for daycare centers and nursery schools none will ever exist. These oversights clearly fail to meet FEMA requirements for offsite plans, and preparedness to adequately protect the public health and safety.
So please help us support this NRC petition for rulemaking by submitting a comment in support to the NRC. The NRC public review / comment period ends January 15, 2003.
Read the full petition and view its status here on the NRC web site
Click here to download a pre written letter of support for this petition and mail it to the NRC
Click here to send a pre written email letter of support for this petition to the NRC