Brunner Island power plant among 50 dirtiest in nation
PPL's York County unit ranked 19th

By P.J. REILLY, Staff
Intelligencer Journal
Published: Jul 27, 2007 1:09 AM EST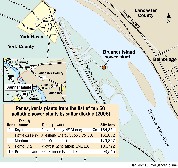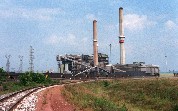 LANCASTER COUNTY, PA -
A national environmental group has named PPL Corp.'s coal-fired Brunner Island power plant one of the 50 dirtiest power plants in the country.
In its report, "Dirty Kilowatts," which was released Thursday, the nonprofit Environmental Integrity Project ranked the Brunner Island plant on the Susquehanna River in York County, just opposite Bainbridge, 19th among 378 fossil-fuel-burning power plants across the U.S. in terms of total sulfur-dioxide emissions in 2006.
"Power plants are major contributors to global warming, emitting billions of tons of carbon dioxide each year," the report states. "In addition, power plants emit millions of tons of sulfur dioxide and nitrogen oxides, pollutants that trigger asthma attacks and contribute to lung and heart disease, and cause smog and haze in cities and national parks."
A PPL spokesman said the company is working on reducing the sulfur-dioxide emissions at Brunner Island.
"Within two years, we expect to see a 97-percent reduction in the amount of sulfur dioxide cited in the report," George Lewis, PPL's media-relations supervisor, said.
According to Dirty Kilowatts, in which the Environmental Integrity Project reviewed federal Environmental Protection Agency data, the Brunner Island plant emitted 93,545 tons of sulfur dioxide last year.
Only 18 of the 378 power plants studied by Environmental Integrity Project emitted more, including four Pennsylvania plants.
Leading the list was a Georgia Power Co. plant that emitted 206,441 tons of sulfur dioxide last year.
Despite its high ranking, the Brunner Island emissions are within federal limits.
Sulfur dioxide is a pollutant created in the burning of coal, which PPL does at Brunner Island to generate electricity.
Some environmentalists, including Environmental Integrity Project, would like to see tighter governmental regulation of fossil-fuel-burning plants or even alternatives to burning those fuels to generate electricity.
Lewis said coal is the "most plentiful fuel available in the U.S." and is vital to maintaining the nation's ability to provide all of its own power.
"Coal needs to be an important part of our energy strategy," he said.
Rather than eliminate coal as a fuel source, Lewis said PPL supports improving technology aimed at controlling the pollution created by coal-fired plants.
PPL is in the midst of a $630-million emissions-reduction project at its Brunner Island and Montour power plants — the largest environmental investment ever made by the utility company, Lewis said.
The Montour plant, near Danville in Montour County, also was named in the Environmental Integrity Project's top-50 list for sulfur-dioxide emissions.
By late 2009, PPL expects to have installed a series of "scrubbers" in the boilers at the two plants to capture roughly 97 percent of sulfur-dioxide emissions.
Scrubbers use pulverized limestone in a chemical process that removes sulfur dioxide from flue gases. PPL said the byproducts of the process will be reused, not put into a landfill.
According to Dirty Kilowatts, Environmental Integrity Project is a "nonpartisan, nonprofit organization dedicated to more effective enforcement of environmental laws and to the prevention of political interference with those laws."
E-mail: preilly@lnpnews.com